French Drains are trenches that have been filled with a large diameter gravel, usually 1.5-3," for the purpose of capturing water and either allowing it to infiltrate in place, or slowly moving it to a place that can infiltrate it. They are useful when water capture or infiltration is needed along paved walkways, sidewalks, patios, or other areas where wider features like dry streambeds will not work.
These features have many potential benefits when it rains, including providing deeper hydration for nearby areas of the garden, potentially contributing to groundwater recharge, protecting local water quality by cleaning rainwater though natural soil processes, and potentially helping with existing water accumulation problems on your property.
Cobble or small boulders can be mixed into the top layer of gravel or at the edges of a French drain for a more natural look. The gravel and cobble used in French drains is often purchased from a Landscape Materials Yard or Building Materials Yard. For business that sell these products in the western San Bernardino County area, see our Local Landscape Suppliers List, here.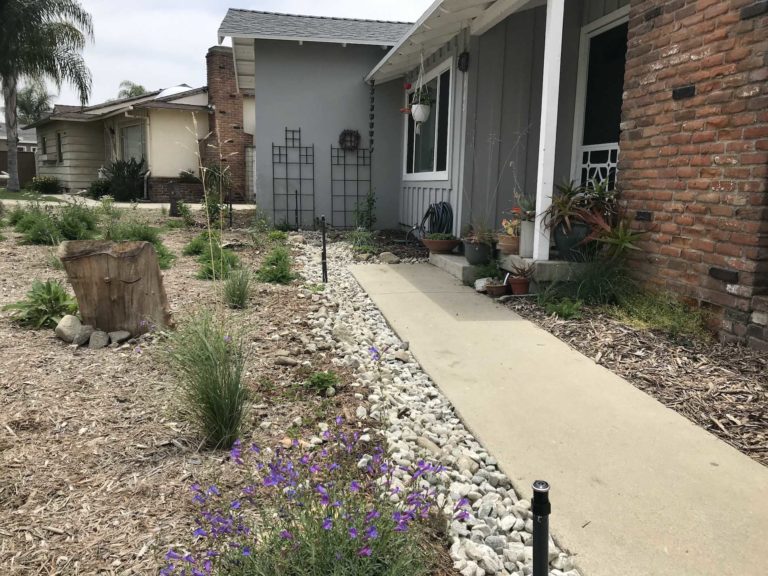 Above: French drain along a front walk, capturing roof water in an area that used to flood. The bottom of the filled trench is slightly sloped to allow some water to infiltrate in place. In a large storm event, however, the slope allows water to move around the side of the house through the French drain, then into the backyard where a dry streambed can accept a larger volume of water safely away from the house.